Parts Parts Parts!!

Ebay
We've bought many things car related off of Ebay. Parts, decals, books etc. They even have a section called Ebay Motors where you can find even more automotive stuff for your VW. You can even find complete cars and cars that need restoration on Ebay.

B and C Auto Freeberg, Missouri
573-744-5318
We've found lots of parts for our vw including the trim for our Rabbit Convertible here. He has acres of Beetle's, Vans, Rabbits, Scirocco's, Jetta's, and more. All VW's and nothing more. He's very reasonable priced. And an all around nice guy who knows his VW's.

This site offers online buying and free catalogs. They carry old and new beetle parts and accessories. They also carry items for Rabbit Convertibles and Cabriolets. And of course they have all other model cars and trucks as well.

The parts bin offers tons of OEM parts and performance parts and accessories for Rabbit Convertibles, Cabriolets, Jettas, Beetles and lots more.

JC Whitney has an entire parts catalog of just VW's. Check them out online or call for your catalog.

And Always, Always, Always check your local salvage yards. It's amazing what you can find at usually a great price.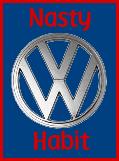 This site is in no way, shape or form affiliated with the or any Volkswagen company. This site is purely for entertainment and personal purposes only.