Rabbit Interior

Well for starters, we assume the front seats are, most likely, not original. The reason for this assumption is that they've been welded in very sloppy and don't seem to be a bit sunfaded. The back seat, we're pretty sure, is original, but needs to be replaced or reupholstered. It has two chunks out of the upper back and the seat part has the fabric tearing away and It's extremely sunfaded.
The interior door panels are in soso condition. The drivers side is the worse. It's a bit warped. But they aren't torn at all.
The dash is not cracked, but has a couple of scrape marks from the stereo being removed. Obviously, someone who had the car before us decided to pry off the dash plate rather than unscrewing it. So there is only one place that fastens it securely. Luckily we found a new dash plate at B&C Auto (see VW parts page).
It has a center console with voltage guage, etc. We replaced the VDO guages with new/used ones. Ours were cracked pretty bad and we're not sure the voltage guage was even working correctly. They look so much better now. And it's great to see exactly what voltage we're running.
The carpet is in decent shape, but it's pulling away from the front part of the car by the rocker panels. It's black in color which shows every piece of lint imaginable. Good thing we bought that shop vac.
For some reason, it was missing the emergency brake cover. We have no idea why this would have been removed, but it was gone. Fortunately, we found one on Ebay and have replaced it.
The trunk is in excellent shape. In fact, the carpet in the trunk looks as if no one ever even used the trunk. We did have to replace the hydraulic so the trunk lid would stay up.
New shift knob. Looks nifty much better than the old one.
We found a back seat at what we call VW Junk Yard Heaven, B&C Auto (see parts page). It's not perfect, but it did clean up pretty decent. There are a couple of cigarette burn holes in the seat part, but it's still better than huge chunks being out of it ,like ours, and the entire fabric ripping away. The biggest problem with the back seat is that it is tan in color whereas our interior is black. The front seats that matched were in pretty bad shape, so we decided to keep the front seats and just get some seat covers that would make it more of a match. It's a temporary fix. Since this back seat is all in one piece, though, it will be a lot easier to get someone to recover it.
Update on the back seat. We got some of that spray can fabric dye. Works pretty good. Dyed it black to match. It's real easy to use.....just point and spray....just like spray painting lawn chairs or something. Course the seat still isn't perfect, but it's better than the tan color and still at that it's terrific compared to the original. We're still searching for the perfect matching interior. But in the meantime....at least we match now. In case you want to see the outcome of using the fabric spray dye, we'll put a pic up of the dyed back seat soon.
Bought some of that Orange hand cleaner stuff with pumus in it to clean the headliner. Boy those awful black marks are hard to remove. That hand cleaner worked like a charm though. Just wiped it on (scrubbed a bit in spots) and wiped it off. All the black marks were gone. The headliner is sparkling white now. Who would have guessed.....could have sworn it was black and white striped.
Found matching window crank out of a Scirroco at a junk yard. Our Rabby had 1 Jetta crank and 3 originals. Now we have all matching...And we all know how important it is to have matching cranks..heehee.
Removed a black piece of something that was covering a hole in the dash by the cigarette lighter..and guess what...it was the space for the ashtray. Found a black ashtray on Ebay from a Cabriolet and it slipped right into place.
Replaced the Speedo cluster. The one in ours had an upshift light????? Not sure why since we're an automatic. So anyway, have a cluster now that does not have the upshift light. We just think it looks better. Why have something in the cluster that isn't needed.
Replaced the steering wheel with a leather wrapped one from an '86 Jetta.
Complete interior replaced with the interior from the '86 Cabriolet parts car that we came across. Black vinyl with gray velour midsections. Also matching door panels. And in terrific shape. Had to be seriously cleaned. Also had to do a minor vinyl patch job on the drivers seat. Our sweet little bunny looks sooooooo much better with matching interior.

Things to Come:
Emergency Brake Billet (to match shifter)
New Carpet
New Dash

A few shots of interior as it looked when we got the car.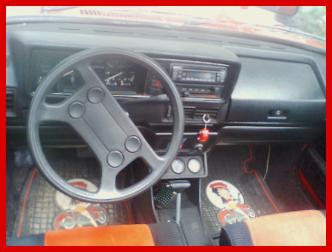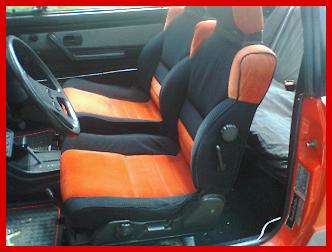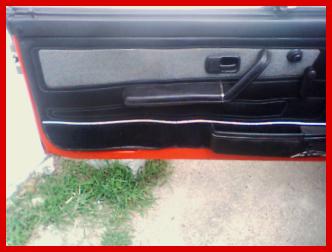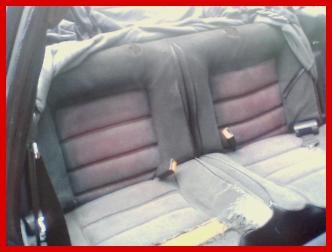 Pic with different back seat.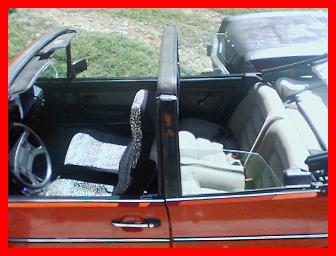 Pic of that seat dyed.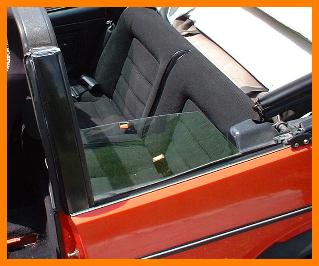 Pics of complete matching interior.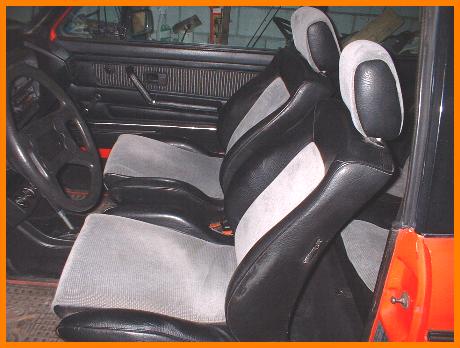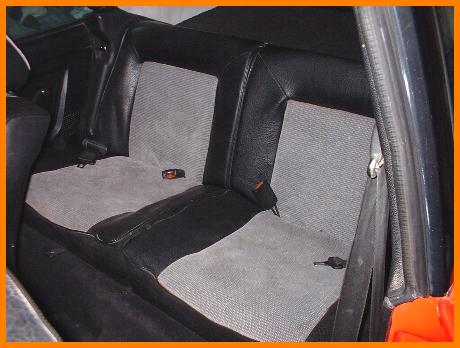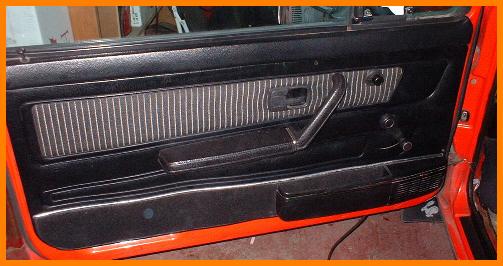 Rabbit Page
This site is in no way, shape or form affiliated with the or any Volkswagen company. This site is purely for entertainment and personal purposes only.