My Rabbit Exterior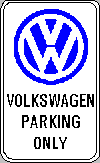 The body is in really good shape for being almost 20 years old. This Rabbit is a Karmann Edition with the Karmann symbols on the front fenders.
Our Rabbit is Orange Red in color. To be technical the color is Mars Red. Hmmm...Guess the Mars part is where the Orange color comes in. We searched for paint to cover the rear hubs (they show through the wheels) and found that Chevy Orange/Red is the same color as my car. The car looks much more orange than red in the light. Just a bit of info....if you are searching your car for a paint code....check the trunk for a label with the paint code and all kinds of other information about your car.
The top is in great shape, it had been replaced by someone before we got the car.
The glass is excellent (not even a chip to mention).
The paint has very few minor scratches, not bad for the original paint.
There are two dings, which is barely noticed, one by the passenger side headlight and the other on the drivers side back fender by the tail light.
The front bumper is in good shape, but the rear bumper has a dent right in the middle of it. Hmmm...not sure what someone did to that?!?!?!
We replaced the Drivers side tail light assembly. There was a crack in the lens and one of the contacts was weak and wouldn't allow the signal to light up.
We replaced the front bumper signal lenses. One was busted out. Got these off Ebay.
We replaced the front louvres, which were pretty badly broken. Got these off Ebay, too.
The car came with some Enkei wheels, but they were pretty scratched and banged up. One was even missing a center cap. We found some original stock 13" Rabbit Convertible wheels at a scrap metal yard and cleaned them up and put them on. They weren't perfect, but was better than the others. (The stock wheels that came on the Rabbit Convertible were also stock on other VW's in the early 80's such as Scirocco's and Jetta's.) Then a friend that had a Cabriolet, which he sold, offered us the 16" Ronal wheels that you see in the latest pics for a price that we just couldn't possibly refuse. These tires and wheels were $1400 new. They were made in Germany and fit the VW's perfect with no lug conversion needed.
Replaced the rear Rabbit flaps (they were broke off) with oem Vw Rabbit flaps. New old stock that we bought off ebay. Looking to get a pair to replace the front ones (the bunnies are faded out).
Replaced the drivers side trim with Karmann Convertible trim. Guess someone lost that piece and put on a piece from a regular Rabbit. It didn't match and was pretty noticeable (see first pic below). That trim is hard to find in good shape. Luckily we found a good piece at B&C Auto (see parts page) at a great price.
We took it to a glass shop and they replaced the Windshield seal. And they didn't even break the windshield taking it out. Wow!! What a difference that makes. It not only looks better, but now we won't get that dripping on our feet when it rains really hard. Which is good, hate to swim while trying to drive!!
We removed the nasty pinstripe that someone decided to put all the way around the car. Boy was that a job. Got all the stripes off but left all the adhesive. Finally got that off too. Lots of elbow grease. Looks much better now. Course, you can see where the pinstripe was since the paint hadn't faded under the stripe. It just has a deeper orange colored stripe down the sides. Still better than that silly white pinstripe.
We finally came across a Convertible Boot. We wasn't sure it would look good on the car since it's gray. But it doesn't look half bad. And it will due til we find a black one or have it dyed. Besides we couldn't pass it up for only $30.00. And it's in terrific shape. Got that at B&C too.
Went to B&C again and got a rear bumper. So now we have a bumper without a big dent in the top of it.
Got a front license plate bracket....ours was missing. Now the plate is right in the middle of the front bumper where it goes, rather than hanging down below the bumper just flying in the wind.
Found an original flower style VW gas cap at a junk yard on an old Jetta. It was pretty sun faded. Took a can of black spray paint to it and it looks like new. Hated that aftermarket locking cap.

Things to Come:
Complete Paint Job (same color) in the Future

The first pictures are of the car when we first got it.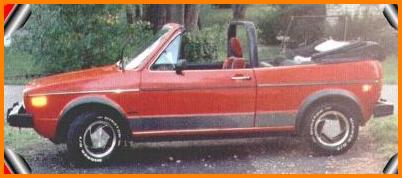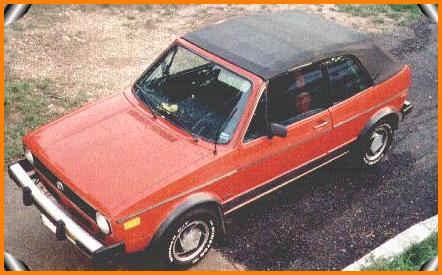 Pics of our car with the stock wheels and matching trim piece.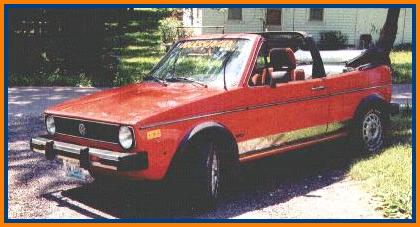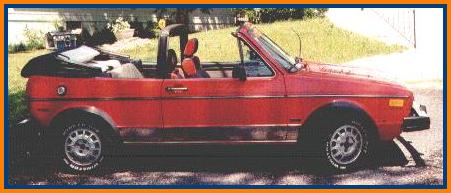 Okay here's the pics of our car with the new Ronal wheels!! Isn't she pretty??!!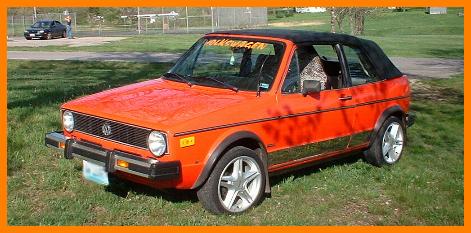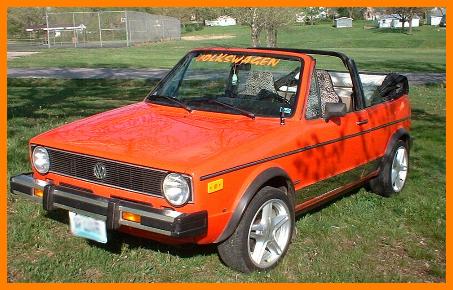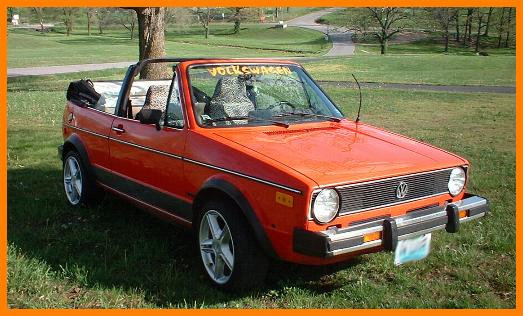 Rear Shot and Pic of Front with License Plate Bracket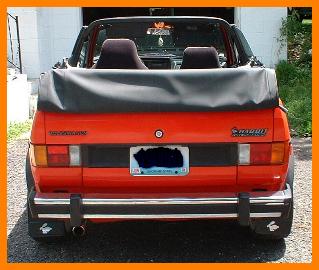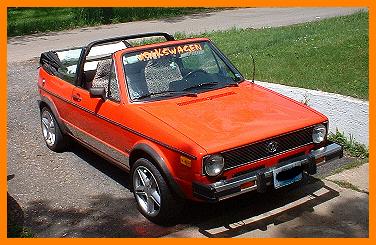 Rabbit Page
This site is in no way, shape or form affiliated with the or any Volkswagen company. This site is purely for entertainment and personal purposes only.