2003 VW Beetle

2.0 Liter
4-Cyl 8 Valve
Single Overhead Cam
5 Speed
Factory Rated @ 115 HP
122 lbs-ft torque
Weight with Payload Approx: 3,694 lbs
0-60 in 10.2 seconds
Top Speed: 118 MPH
Average 31 MPG
Paint Color: Sundown Orange

Beetle Facts:
Purchased June 2004
Never Previously Owned
Used as Service Car
4,600 Miles

Equipped With:
Front Suspension: Independent McPherson struts, coil springs, telescopic shock absorbers, 23 mm stabilizer bar
Rear Suspension: Independent torsion beam axle, coil springs, telescopic shock absorbers, 18 mm stabilizer bar
Standard 4 wheel ABS
Heated Outside Mirrors
Optional Beetle Rubber Floor Mats
Optional 6 Disc CD Changer

Aftermarket Installations:
K&N Air Filter
3A Racing Muffler w/Dual Tips
Front and Rear Window Decals
Polished Eagle Wheels
Windows Tinted
Billet Style 3 Inch Antenna
Boomerang Style Spoiler

Our Bug!!
This is our bug when we brought her home.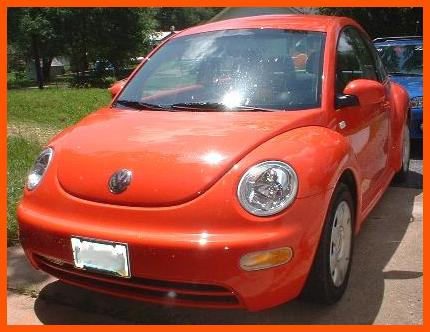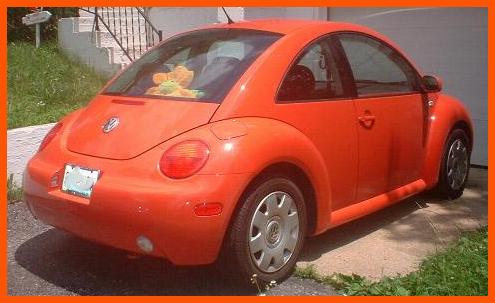 Here she is after the new exhaust and bra were added.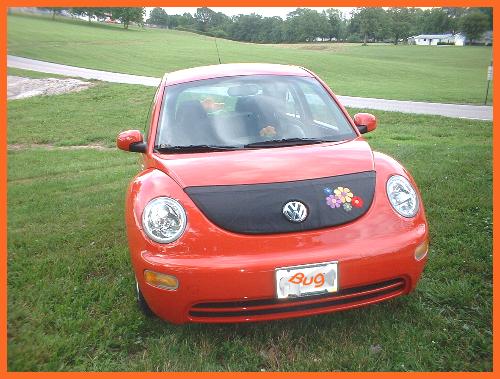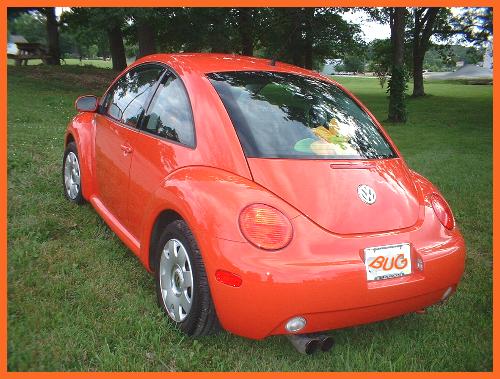 Our Bug after the new wheels and windshield decal. (March '06 windshield replaced after large truck flipped rock up onto it and crack it! NO more decal!)
She's lookin' mighty spiffy!!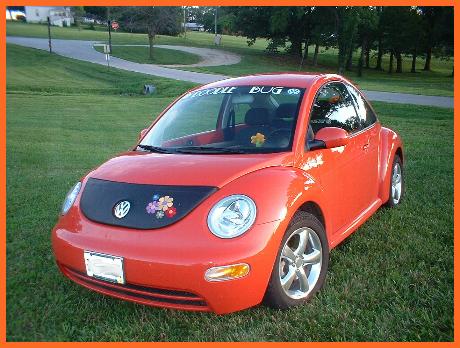 Our Sweet Bug with tinted windows and billet antenna.
She's almost done!!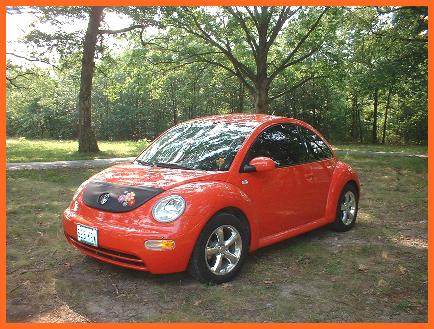 Here she is with her new spoiler.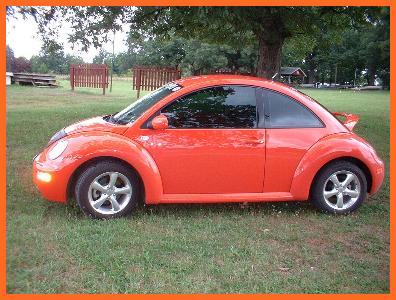 Here she is on the beaches of the Gulf of Mexico in June 2005.

Future Mods:
Paint Plastic Engine Parts
Paint Dash Parts
Tail Light Covers or
Altezza Style Tail Lights

This site is in no way, shape or form affiliated with the or any Volkswagen company. This site is purely for entertainment and personal purposes only.