1967 Bug Interior, Exterior, Engine Upgrades, etc.

Condition when we got the car:
Custom Paint is a Salmon Pink with Gray Scallops.
GM wheel conversion kit was installed for Wagon wheels which were painted salmon pink to match exterior color.
Custom bumpers were installed and painted to match exterior.
Interior has been redone. Back seat was removed and replaced with a carpet panel and speaker boxes.
Dash and other interior metal was painted salmon pink to match exterior of car.
Since We've Owned the Car:
Tail light lenses replaced with all red lenses.
When we first acquired the car there was a headlight issue. One light was not working on dim. After digging around on the internet for a wiring diagram, we discovered that not only was the wires on the fuse panel switched around, but also the wires on the relay switch. Seems when someone installed the aftermarket stereo, they wired it into the headlights. And we assume that they forgot where the wires went when they attempted to hook everything back up. So after wiring it all up correctly, the headlight works fine.
New Shocks all the way around.
New Bosch Plugs.
New Bosch Blue Coil.
New Blue Plug Wires.
New EMPI Pink Distributor Cap.
Pink Engine Dress Up Item(s).
New Interior Door Panels.
New Hood and Deck Lid Seals.
New Tail Light and Signal Light Seals.
New Trunk Carpet.
New Original Style Outer Mirror.
New Interior Paint (Hot Rod Black).
New Defroster Vent.
New American Racing "smoothie" Wheels.
New Bumper Rubber Seals.
New Chrome Empi Tailpipes.
New Exterior (see paint page) Paint (Hot Rod Black).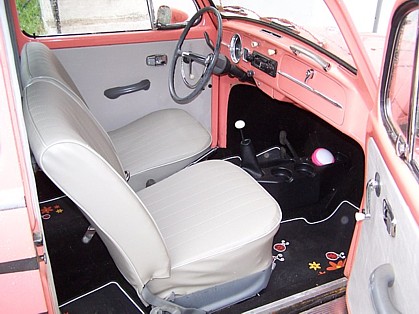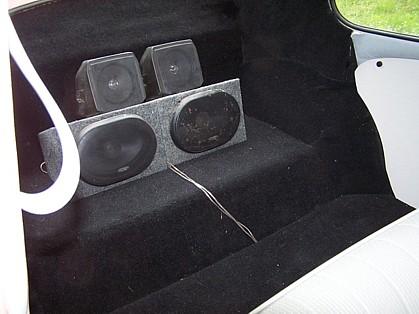 | | |
| --- | --- |
| | |
| | |
| --- | --- |
| | |

Back to 67 Bug Main Page
This site is in no way, shape or form affiliated with the or any Volkswagen company. This site is purely for entertainment and personal purposes only.